A Salerno una speciale accoglienza al 109° Congresso della SIF
Dopo il Congresso a Milano nel 2022 con il più alto numero di partecipanti negli ultimi 25 anni, non immaginavamo di superare a Salerno il record dello scorso anno. E invece ci siamo sbagliati! E non solo questo, gli organizzatori ci hanno fatto trascorrere una settimana indimenticabile sia dal punto di vista scientifico sia per la qualità degli eventi sociali che ci hanno permesso di apprezzare la ricchezza della cultura locale.
La cerimonia inaugurale ha visto tra gli altri gli interventi del Rettore dell'Università Vincenzo Loia e del Presidente della Regione Campania Vincenzo De Luca. Quest'ultimo ha sottolineato l'importanza delle nuove tecnologie quantistiche per il progresso e benessere della società e ha ricordato la necessità di prendere decisioni sul mix delle fonti energetiche, che potrebbe includere anche il nucleare.
Dopo la consegna dei numerosi premi, tra cui il Premio Occhialini in collaborazione con l'Institute of Physics (IOP) e il prestigioso Premio Fermi della SIF, ci sono state due relazioni plenarie e un intervento della Presidente del CNR Maria Chiara Carrozza che ci ha fatto capire quanto questo ente di ricerca sia in grado di offrire in termini di opportunità nella sua attuale gestione innovativa e quando sia vitale la sua attività nel campo della fisica con i suoi importanti nuovi progetti in corso. Maria Chiara Carrozza ha anche partecipato alla tavola rotonda sulle tecnologie quantistiche dove tutti i relatori hanno messo bene a confronto le varie azioni intraprese a livello nazionale e delineato il percorso che si sta definendo per mantenere l'Italia uno dei paesi leader nel campo. È stato anche comunicato che alla fine di quest'anno l'UNESCO dovrebbe dichiarare il 2025 l'Anno Internazionale della Scienza e Tecnologia Quantistica.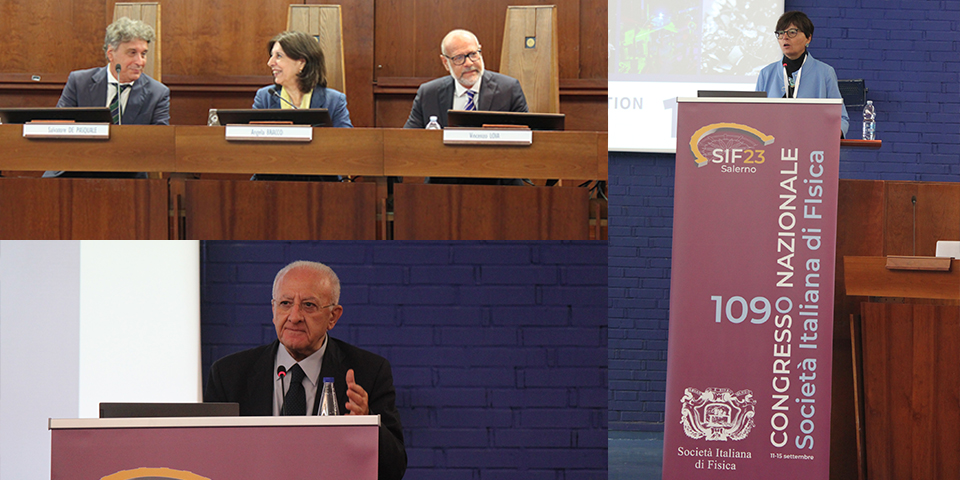 Dall'alto a sinistra in senso orario: Salvatore De Pasquale, Angela Bracco, Vincenzo Loia, Maria Chiara Carrozza, Vincenzo De Luca.
Un altro evento particolarmente interessante che si è svolto all'interno del Congresso è stata la celebrazione del 25° anniversario delle riviste di fisica della serie The European Physics Journal (EPJ), con relazioni che ne hanno ripercorso la storia, che hanno ricordato il determinante contributo della SIF alla loro creazione ed evoluzione e che hanno sottolineato il ruolo che queste riviste hanno nell'avanzamento e nella comunicazione della scienza.
Al Congresso ci sono state 10 relazioni plenarie e numerose relazioni su invito e comunicazioni date all'interno delle 7 sezioni parallele, tutte molto seguite con interesse e partecipazione. Le aule delle sezioni sono state dedicate a scienziate scelte dal Comitato Pari Opportunità della SIF.
Da notare che il 60% degli oratori era nella fascia di età minore di 40 anni, a riprova della grande vitalità nella nostra disciplina. Sono stati anche organizzati da esperti nei settori due simposi tematici: uno su "Ottica e Optometria" e l'altro su "Fisica Statistica e Sistemi Complessi". Anche quest'anno la SIF dedicherà due volumi de Il Nuovo Cimento alla pubblicazione di una selezione delle comunicazioni e delle relazioni svolte ai due simposi.
All'interno di Congresso SIF si è tenuta la sesta edizione della Sezione Giovani  in collaborazione con l'Associazione Italiana Studenti di Fisica (AISF) e con il Progetto Young Minds dell'EPS. Il tema portante è stato quello della carriera dei giovani e dei modi in cui si può sviluppare dopo gli studi in fisica. Le relazioni hanno quindi riguardato il trasferimento tecnologico, il rapporto con il mondo dell'industria e i meccanismi di finanziamento della ricerca.
Vorrei concludere mettendo in evidenza gli eventi serali che hanno decisamente contribuito a lasciare ai partecipanti un ricordo indimenticabile: i) il concerto del gruppo musicale "Neri per Caso"; ii) la conferenza spettacolo sulle onde gravitazionali con l'orchestra jazz del Liceo Alfano I di Salerno; iii) la visita guidata al Parco Archeologico di Paestum.
Ringrazio ancora gli organizzatori, quello che hanno fatto vedrà ulteriori frutti anche nei prossimi anni poiché il ricordo della loro accoglienza ci indurrà, credo, a partecipare numerosi anche ai congressi futuri.
A ritrovarci al 110° Congresso SIF!

Angela Bracco
Presidente SIF
In Salerno a special welcome at the 109th SIF Congress
After the Congress in Milan in 2022 with the highest number of participants in the last 25 years, we did not imagine surpassing last year's record in Salerno. And yet we were wrong! And not only this, the organizers made us spend an unforgettable week both from a scientific point of view and for the quality of the social events which allowed us to appreciate the richness of the local culture.
The inaugural ceremony saw, among others, speeches from the Rector of the University Vincenzo Loia and from the President of the Campania Region Vincenzo De Luca. The latter underlined the importance of new quantum technologies for the progress and well-being of society and recalled the need to make decisions on the mix of energy sources, which could also include nuclear power.
After the presentation of the numerous prizes, including the Occhialini Prize in collaboration with the Institute of Physics (IOP) and the prestigious Fermi Prize of the SIF, there were two plenary lectures and a speech by the President of the Italian National Research Council (CNR), Maria Chiara Carrozza, who made us realise how much this research organisation is able to offer in terms of opportunities in its current innovative management and how vital its activities in the field of physics are with its important new projects underway. Maria Chiara Carrozza also participated in the round table on quantum technologies where all the speakers presented and compared the various actions undertaken at a national level and outlined the path that is being defined to keep Italy one of the leading countries in the field. It was also announced that at the end of this year UNESCO should declare 2025 the International Year of Quantum Science and Technology.
Another particularly interesting event that took place within the Congress was the celebration of the 25th anniversary of the physics journals of the The European Physics Journal (EPJ) series with reports that retraced their history and recalled the crucial contribution of the SIF in their creation and evolution and the role that these journals have in the advancement and communication of science.
At the Congress there were 10 plenary talks and numerous invited talks and communications given within the 7 parallel sections, all well attended with interest and participation. The classrooms of the sections were dedicated to female scientists chosen by the Equal Opportunities Committee of the SIF.
It should be noted that 60% of the speakers were in the under 40 age group and this shows great vitality in our discipline. Two thematic symposiums were also organized by experts in the sectors, one on "Optics and Optometry" and the other on "Statistical Physics and Complex Systems". As in the past three years, SIF will dedicate two volumes of Il Nuovo Cimento to publish a selection of the communications and reports given at the two symposia.
The sixth edition of the Youth Section was held within the SIF Congress in collaboration with the Italian Association of Physics Students (AISF) and with the Young Minds Project of the EPS. The main theme was that of young people's career and the ways in which it can develop after studying physics. The presentations therefore covered technological transfer, the relationship with the world of industry and research funding mechanisms.
I would like to conclude by highlighting the evening events that definitely contributed to leaving the participants with an unforgettable memory: i) the concert of the musical group "Neri per Caso"; ii) the conference show on gravitational waves with the jazz orchestra of the Liceo Alfano I of Salerno; iii) the guided tour of the Archaeological Park of Paestum.
I thank the organizers again, what they have done will see further fruits in the coming years as the memory of their welcome will, I believe, lead us to participate in large numbers in future congresses too.
See you again at the 110th SIF Congress!

Angela Bracco
SIF President
Angela Bracco – Professore di Fisica Sperimentale all'Università degli Studi di Milano e associata all'INFN. La sua attività di ricerca è nell'ambito della struttura dei nuclei. Collabora a esperimenti internazionali che si focalizzano sulla spettroscopia gamma. È membro di numerosi comitati internazionali scientifici e di valutazione. È socia dell'Academia Europaea, dell'Accademia delle Scienze dell'Istituto di Bologna, e socio corrispondente dell'Istituto Lombardo (Accademia).
Angela Bracco is professor of Experimental Physics at the University of Milan and associated to INFN. Her research activity is in the field of nuclear. She collaborates in international experiments focusing on gamma spectroscopy. She is in several international committees for scientific advice and evaluation. She is member of the Academia Europaea, of the Academy of Science of the Bologna Institute and corresponding member of the Lombard Institute (Academy).